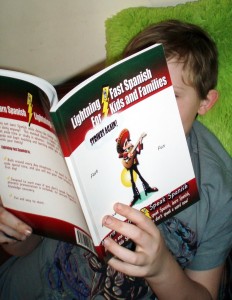 Though I took Spanish courses in both high school and college, I'm remiss to admit that I'm still a novice when it comes to speaking the language.  Mainly, it's the "use it or lose it" adage: I do not use it in my daily life, therefor I've lost plenty of my recollection of the language.
I also vowed to teach my children Spanish because I'm an advocate of the importance of learning multiple languages in our multi-lingual society.  To date, they can tell time in Spanish, recognize a few basic words and phrases, and count to twenty… but it's nowhere near where I'd like us to be in the learning process.
So, I was delighted to find a book series specifically designed for family learning of a new language and quickly latched onto the idea of using "Lightning-fast Spanish for Kids and Families" to enhance and accelerate our learning in the new year.
The great thing about Lightning-fast series is that you do not need to know or understand any aspect of the language prior to picking the book up.  It certainly helps that I have some basis of information, but all phonetic pronunciations are included along with all the guidelines and tips you'll need to get started.
Each lesson in "Lightning-fast Spanish for Kids and Families is centered around every day activities such as cooking, taking care of pets, shopping, and household  chores or general family topics like weather, directions, time, holidays, and money.  What I like best about this feature is it gives your family the immediate opportunity to learn real conversational skills in the language you are studying.  Now I can tell my children it's time to feed the dog or to do their homework in Spanish.  They are learning a new language and I am strengthening and putting into practice my Spanish speaking skills.
In addition to learning together through everyday conversation, additional activities are offered to practice vocabulary and encourage memorization of words and spelling.  Games, crosswords, scavenger hunts, and other fun ideas make the experience entertaining, as well as educational.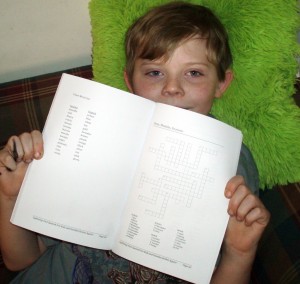 My youngest son was very excited to find the puzzle section in the guide.
The premise of the Lightning-fast language guides is to build skills while doing the things you normally do every day.  There's no need to study in advance or set aside a special time for learning, you simply pull out the book and use during your daily routines and complete the special activities to create fun family moments.
You can even come up with your own ways to incorporate learning a new language with the Lightning-fast series of books.  We are having a Spanish-themed family night where we will use the "Cooking" and "Eating in a Restaurant" sections to practice during dinner.
Overall, double thumbs up for this innovative and effective series! ¡Fantástico!
Languages in the Lightning-fast book series include Spanish, French, German, Italian, Chinese, and Japanese.  Advanced level books are currently available in Spanish and French.
For more information and sample pages, visit author Carolyn Woods' book page ;or visit your favorite local or online retailer location.