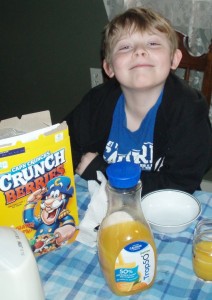 I think that setting achievable New Years resolutions or goals is a great way to reaffirm your commitments or to begin a fresh start.  This year, my resolutions include "to incorporate more healthy foods, activities, and habits into our family routines."
For each resolutions I set, I have smaller, achievable goals set out such as "sit down for breakfast" (too often we grab things on-the-go!) and "swap out staple food items with healthier versions" (these little changes will certainly have a big impact on our overall dietary health.)
Kroger is currently making is super easy and highly affordable for me to get started on changing up our morning routine with the Kroger Co Family of Stores Buy 5 Save $5 sale taking place now through January 12.  You select five (5) participating P&G, Pepsi and Kelloggs products and when you check out, you'll save $5 on your purchase when you use your Shopper's Card.  That's it, easy-peasy savings on products you already love and those you want to try!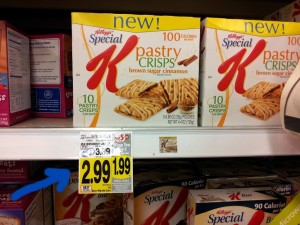 I found it easy to identify the product included in the special by the shelf tags.
For my New Years resolution purposes, I wanted to pick up some of my son's favorites for breakfast, but also wanted to see if I could find a healthier orange juice to serve and new, heather breakfast cereal option for me to try.
My pick 5 bundle included:
Tropicana Trop50 No Pulp Calcium + Vitamin D (a terrific swap for our standard OJ as it has 50 percent less calories and sugar per serving than the average OJ.) 
Kelloggs Special K Fruit & Yogurt Cereal (purchased for me, but turns out my oldest son loves it, too- totally not complaining, it's a healthier switch for him!)
Kelloggs Special K Pastry Crisps Brown Sugar and Cinnamon (when I do have to grab an on-the-go treat, I thought these 100 calorie treats would be a great alternative.)
Kelloggs Special K Chocolately Pretzel Cereal Bars (for a breakfast alternative to standard cereal and also for on-the-go options, if needed.) 
Kelloggs Captain Crunch Crunch Berries (to entice my little one to join us at the breakfast table!)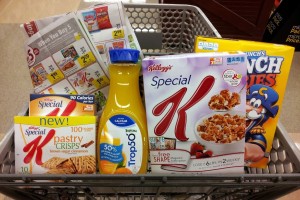 All set for family breakfast time! 
Having a terrific breakfast selection on hand is perfect for getting my resolutions off and running and saving big in the process, is well, icing on my resolution efforts!
You'll find a wide variety of bundle options to help support your resolutions from creating a beauty bundle of Pick 5 products to creating a bundle that helps you with your house cleaning goals.  You can find some suggested bundle combinations at http://clvr.li/ZgFAFk along with a Buy 5 Save $5 game where you can play to win up to $15 off your shopping trip!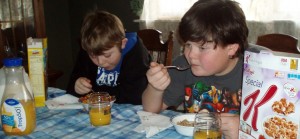 Bringing our family back to the breakfast table is a great start to our new year!
Did you make any resolutions (or set any goals) for the new year?  What products would help support your success?
Disclosure:  I was selected for participation in this campaign as a member of Clever Girls Collective.  All thoughts and opinions are that of Rural Mom.