The Christmas countdown is on and it's that time of year again. Time for our annual list of favorite top toys! This year we have some truly innovative products for you to consider.
All toys on our Rural Mom Toy Toys for 2019 list encourage learning, creativity, and activity in some way. Of course, they are lots of fun to play with, too!
We hope the kids on your holiday gift list will love them all as much as we do. Wishing you all a magical and playful holiday season!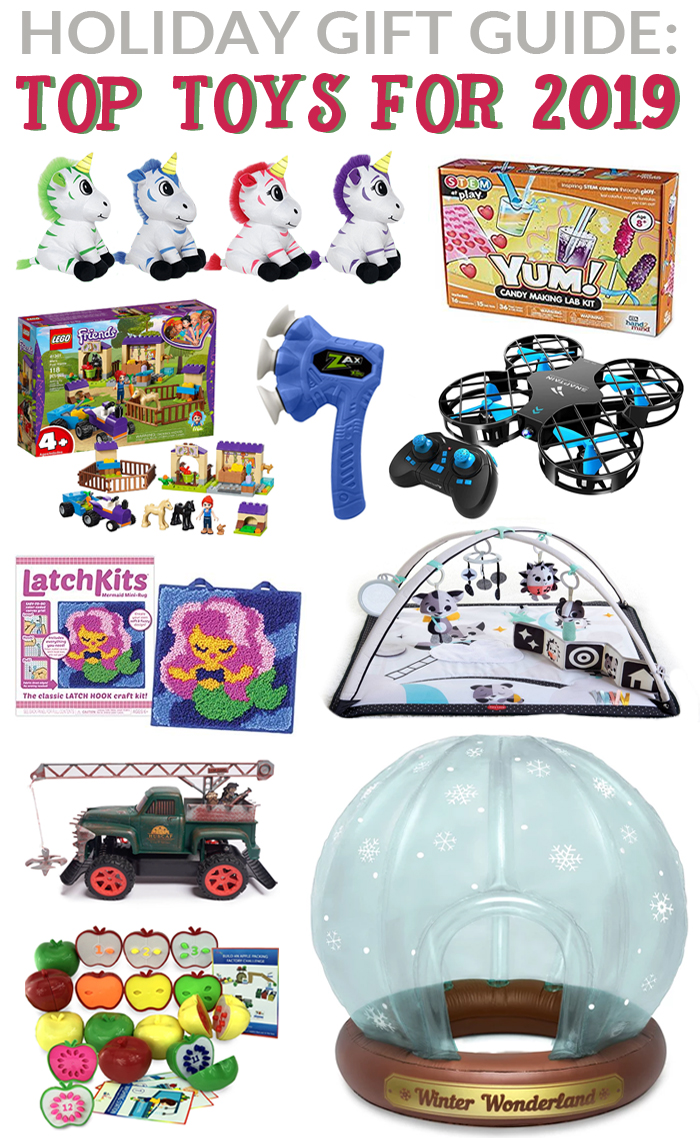 Do you believe in Zoonicorns? We do!
Zoonicorn plushies originated from a unique idea for a children's story. Valeo, Aliel, Promithea and Ene are part unicorn, part zebras, with magical wishing horns. Kiss the nose of your Zoonicorn, watch their horn light up and make a wish.
They are soft, cuddly plushies in bright colors. Each makes soothing sounds used four touch points to help relieve stress and anxiety. Makes a great daytime and nighttime pal. Your child will have fun using their imagination, exploring the world with a Zoonicon by their side.
As you may have noticed in past toy guides, Rural Mom loves toys that encourage development of STEM skills. Combining two favorites – candy and science – this kit engages children with hands-on learning that's super YUM!
In the Stem at Play YUM! Candy Making Science kit, kids will be introduced to the sugar, liquid and jelly science. There are 16 experiments and 15 lab tools for kids to make jelly candy, gummy worms, crystal rocks and more.
With easy-to-follow instructions, this kit helps bring science concepts to life. Stem at Play YUM! Candy Making Science kit is perfect for all the girls, boys, kids, and teens (ages 8 and up with adult supervision,) on your holiday shopping list.
Full of bold graphics and stimulating play options, Magical Tales Black & White Gymini is a fantastic gift for the newborns on your shopping list. It's also a fantastic present for a mom-to-be!
Gymini is chock full of features that support a baby's development. The contrasting black and white colors stimulate the senses. Adjustable arches allow for communication and bonding time. Variant textures encourage development of fine motor skills. And interactive features like the musical hedgehog toy help infants with cognitive understanding.
In addition to having an excellent, thoughtful design, the Magical Tales Black & White Gymini is well constructed and easy-to-assemble, too. Great for home use and easy to pack up for traveling. Babies will truly love all the innovative and fun experiences they have with Gymini!
It's hard not to smile when you see this adorable, kitchy-fun toy! In fact, we think it's not only a great toy for kids this holiday season, but for adults, too!
Redneck Roadkill is a battery-operated radio controlled vehicle that's ready for smashin' road signs, varmints, zombies – you name it! Each truck has an authentic beat-up pickup look, beefy tires and working suspension.
Full function remote controller drives forward, back, left and right to tickle tight turns and smoke straight-a-ways. Here at Rural Mom, we've seen our share of road kill, but never quite like this! This toy is better than a barrel-full-of-money laughs and sure to bring a silly grin to all who take 'er out for a spin!
This craft kit takes me right back to my childhood. I had so much fun creating latch hook rugs and pillows for our home. In fact, my mother still puts out the Christmas rug I created decades ago.
Kids today still love fun and clever crafts, which makes Latch Kits Latch Hook Kits a timeless gift. Let your little ones express their creativity with this easy-to-do craft that will bring hours of entertainment and a lifetime of enjoyment.
These mini-rug kits are available in patterns featuring Mermaids, Owls, Rainbows, Unicorns and more. Each kit includes everything needed to complete each fun design.
Last year, escape rooms were the big craze. This year, axe-throwing has made a big splash on the entertainment scene.
Zing Toys Zax lets you bring the excitement of axe-throwing home in a fun and safe way! With softek foam suction cups, the Zax can stick to almost any surface indoor and out.
Kids from 5 to 50 (and up) will love tossing Zax. Get everyone away from the tech and busy playing Zax competitions. It's a great family-friendly activity!
You can never start too early introducing your child to STEM skills. Which is why we love STEM Apple Factory which helps toddlers learn to count in a bright, fun way.
The STEM Apple Factory has 12 counting apples in three colors – red, yellow and green. In addition to learning basic counting skills, toddler will learn color identification and sorting.
What we love even more about the STEM Apple Factory is it's a toy that will grow with your child. Pre-school children will love using the apples for toy food play, role play or matching games.
Live in an area without snow during winter time? Looking for indoor rainy-snow-day fun? Or want an easy solution for fort building outdoors in the snow?
Big Mouth has you covered with the Winter Fort Snow Globe! Kids can step into a winter wonderland in this 4-foot tall transparent snowglobe snow fort.
Perfect for movie nights, a day of fun outdoors or as inspiration for pretend play. Whether you are indoors or out, this is one fun toy they will want to play with over and over again.
What's there not to love about LEGO? It's a great creative play toy!
We particularly love the LEGO Friends Mia's Foal Stable set with a cute toy horse barn and tractor. Perfect for Rural Kids to build and play.
The set also includes a Mia mini-doll figure, plus 2 horse figures and a rabbit figure. Recommended for boys and girls aged 4+ and for fans and kids of all ages.
For kids who are enamored with drones but not quite ready for an expensive model, the SNAPTAIN RC Nano Quad Copter is a terrific gift idea!
Each radio controlled drone has altitude hold, 3-speed control and single button return feature. Complete with flip stunts and rolls, the 6-Axis Gyro flying control system allows for 360-degree range of motion.
Ultra-portable and ultra-fun, this is great gift for older children and teens on your holiday shopping list.
Disclosure:
We receive sample products for review for our top toys holiday guide, most of which are donated to local charities after gently testing and inspecting. If it's not a gift we wouldn't love to see under our own trees or personally gift to a loved one, you will not find it in any RuralMom.com holiday guide. We do not accept payment for placement of items in our guides. If it made it to our top holiday gift pick list, it's earned a spot based on its high quality, reasonable price point, and overall excellence in durability and/or functionality.
We're always on the hunt for the hottest new gift ideas and there were so many options this time around that it was tough to choose our top ten for this year. If you'd love to see a different toy featured or feel that we're missing out on a great one, please let us know!